Shigeru Miyamoto
Shigeru Miyamoto (born November 16, 1952) is a Japanese video game designer. He is the creator of the Mario, Donkey Kong, The Legend of Zelda, Star Fox, F-Zero and Pikmin video game series, among others, for Nintendo game systems. He has also supervised many titles published by Nintendo on behalf of other developers, including Metroid Prime and Mario &Sonic at the Olympic Games.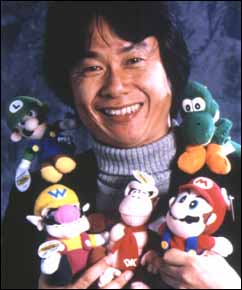 Miyamoto is a world-renowned game designer, and is often called the "father of modern video gaming". Video games designed by him typically feature refined control-mechanics, intuitive gameplay, simplistic story lines, and imaginative worlds in which the players are encouraged to discover things for themselves.
Employed by Nintendo as an artist in 1977, he was given the task of working on one of their first coin-operated arcade games. The resulting title was Radar Scope, which was not as big of a success in the United States as Nintendo hoped for. Miyamoto later reused the game's hardware and modded it into Donkey Kong which was a huge success as well as a turning point in videogame history, and the game's lead character, Mario — then called Jump Man — becoming an easily recognizable video game character and Nintendo's mascot. Miyamoto quickly became Nintendo's star producer designing many franchises for the company, most of which are still active.
He is currently the Senior Marketing Director of Nintendo and General Manager of Nintendo EAD. In 1998, Miyamoto became the first person to be inducted into the Academy of Interactive Arts and Sciences' Hall of Fame.

Biography
Early life
Shigeru Miyamoto was born in Sonobe (now Nantan), Kyoto, Japan. He is the second child of Iijake Miyamoto and Hinako Aruha. As a young boy, Miyamoto loved to draw, paint pictures, and explore the landscape surrounding his house. Stories describe his fascinated discovery of hidden caves, lakes, and other natural features which were linked to his later work. The Legend of Zelda in particular took inspiration from his childhood exploration. As a child Miyamoto was menaced by a neighbor's dog - kept at bay by a chain attached to a post - inspiring the Chain Chomp enemy from the Mario series. In 1970, he enrolled in the Kanazawa College of Art and graduated five years later - though he would later remark that his studies often took a backseat to doodling. In an interview, Miyamoto stated that as a child he wished he would have a disease that would not harm him, nor be life threatening, but just had to stay in the hospital all day long, so he could doodle. Miyamoto was said to have had an eclectic taste in music for his age, being interested in such groups as the Lovin' Spoonful, the Nitty Gritty Dirt Band, the Ramones, and The Beatles. In 1977, with a degree in industrial design, Miyamoto arranged a meeting with Hiroshi Yamauchi, head of Nintendo of Japan and also friend of his father. Yamauchi hired Miyamoto as a "staff artist" and assigned him to the planning department.
Nintendo
In 1980, the fairly new Nintendo of America was looking for a hit to establish itself as a player in the growing arcade market. After successful location tests using prototypes, then-NoA CEO Minoru Arakawa ordered a very large number of units of the arcade game Radar Scope. But by the time the arcade machines could be produced and shipped to the U.S., interest had vaporized, and the game flopped. To stay afloat and clear the costly inventory of Radar Scope, Nintendo of America desperately needed a smash-hit game that the unsold machines could be converted to play. Yamauchi assigned Miyamoto the task of creating the required game.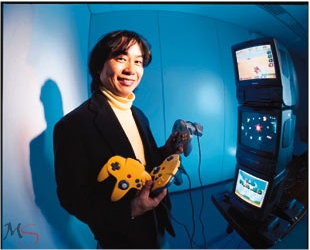 After Miyamoto had consulted with some of the company's engineers, and composed the music himself on a small electronic keyboard, Donkey Kong was fully conceptualized. When the game was complete, the chips containing the new program were rushed to the U.S. and Nintendo employees worked around the clock to convert the Radar Scope machines. It was fortunate that Nintendo had so many units on hand, because Donkey Kong was an overnight success, and not only saved the company, but introduced a character who would be immortally identified with Nintendo.
The three famous characters Miyamoto created for the game were Donkey Kong, Jump Man, and Lady. It was Jump Man, a character who would later be known as Mario, that has found the most success, and since his debut in Donkey Kong he has appeared in more than 100 games spanning over a dozen gaming platforms.
Miyamoto is usually listed as "producer" in the credits of Mario games. The few exceptions include the Super Mario Land series for the Game Boy, with which he had virtually no involvement. (Gunpei Yokoi, Miyamoto's mentor, produced the Super Mario Land series.) There are also rare instances where Miyamoto is heavily involved in a game, almost to the point of director, but for reasons unknown, doesn't credit himself that way. Such examples include The Legend of Zelda: Ocarina of Time, Ice Climber and Pikmin. In an interview with Famitsu, Miyamoto said "That's right. I was the director of Mario 64, and half producer, half director on Zelda. As for Pikmin, I'd say half producer, half director." Other titles include, Nintendogs, Wii Fit, and most recently, Super Mario Galaxy, which Miyamoto has stated his involvement was even greater than when he directed Super Mario 64. In early U.S. releases of a few Mario games, he was sometimes credited as "Miyahon", a mistranscription of the kanji in his name (本 — which can be read as either hon or moto). The misread surname was Miyamoto's development nickname in the 1980s (having a nickname was a common practice among Japanese game developers at the time).
At E3's convention in 1997, Miyamoto revealed that he was constantly working with around four hundred people on a dozen or so projects at a time.
Despite being an influential figure in video games and responsible for multi-million dollar franchises, Miyamoto is said to be very humble, insisting on settling for an average income, and often rides a bicycle to work.
Competition with Sony and Microsoft
Holding the intellectual reins of the Wii was Miyamoto's first taste of the hardware battle. He has claimed his peers within the industry have been "too focused on hardcore gamers". His belief that his project could out-sell PlayStation 3 and Xbox 360 is influenced by his business motto; "Games should be what we would want to play". However, he admits changes had to be made before the Wii was a serious contender. "There was a time when Nintendo was not influencing the world in the way it would have liked", Miyamoto claims, "That's why I've spent so much time trying to find new, exciting control systems we can use."
In the first 6 months of straight competition, Wii outsold both its rivals,Sony and Microsoft, with gamers buying more than twice as many as Xbox 360 and four times as many as PlayStation 3. When asked about his vision of rivalry in the future, he has high hopes for his team. He says, "My dream is that the Wii becomes this device everybody sees as being the natural thing next to the TV."
Awards and recognition
Miyamoto was the first person ever to be inducted into the Academy of Interactive Arts and Sciences' Hall of Fame in 1998, an award that outlines his lifetime achievement and dramatic effect on the video game industry. In March 2005, Miyamoto was among the first honorees in 2004 to receive a star on the Walk of Game: a section of San Francisco's Metreon Center that is modeled on Hollywood's Walk of Fame.
On March 13, 2006 Miyamoto received a French honor by being inducted Chevalier ("Knight") into the Ordre des Arts et des Lettres, alongside game designers Michel Ancel, and Frédérick Raynal as part of the French video game policy effort.
The main character of the infamous PC game Daikatana, Hiro Miyamoto, was given his last name as an homage to Shigeru.
The rival character in the first generation of Pokémon games was named Shigeru. Likewise, the main character was named Satoshi, for the developer of the Pokémon series.
A hidden easter egg in Nintendogs reveals in some contests a character named Shiggy (Shigeru) & his Sheltie Pik (Pikku).

On November 28, 2006 Miyamoto was featured in TIME Asia's "60 Years of Asian Heroes" with Hayao Miyazaki, Mahatma Gandhi, Mother Teresa, Bruce Lee, and the Dalai Lama.
At the Game Developers Choice Awards, on March 7, 2007, Shigeru Miyamoto received the Lifetime Achievement Award for a career that spans the creation of Donkey Kong, Super Mario Bros., and The Legend of Zelda. He was also given credit for the company's recent revolutionary systems such as the Nintendo DS and the Wii. He was the Keynote speaker at that conference, along with Eiji Aonuma and Satoru Iwata.
Shigeru Miyamoto was chosen as one of the 100 TIME Magazine's 2007 Most Influential People of the Year. [9]. He has once again been nominated for the list in 2008, and topped this list.
Current activities
Miyamoto has recently completed development for Wii Fit and Mario Kart Wii for the Wii and has supervised Mario and Sonic at the Olympic Games for the Wii and Nintendo DS. Both versions of the latter were developed by Sega, not Nintendo. Miyamoto unveiled Wii Fit at E3 2007. Both have since been released.
Miyamoto also said in July 2007 he'll focus his attention on helping develop Wii Music and Mario Kart Wii after he's completed developing Wii Fit and Super Mario Galaxy. He also pointed out in an interview that he likes to focus on "games in order, one by one" rather than concentrating on many games at once[11].
Personal life
Although a game designer, he hardly spends time playing games. During his spare time, Miyamoto also plays the guitar and banjo. Shigeru Miyamoto has two children with his wife, Yasuko Miyamoto, who was general manager of Nintendo of Japan in 1977. Neither of their children has expressed a desire to go into the family business. He claims that Yasuko doesn't like video games, but she is beginning to enjoy playing games like Brain Age and using the Wii's Everybody Votes Channel. His son, Kenshi Miyamoto has allegedly expressed a desire to become a pro surfer rather than a professional gamer Miyamoto has a Shetland Sheepdog named Pikku (pronounced Pick) that was the inspiration for Nintendogs. Miyamoto is described as being a semi-professional dog breeder.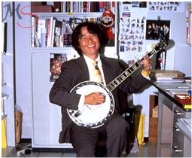 Delays
As Producer and R&D member of several games, Miyamoto has had Nintendo implement delays "in order to make a game [...] of the high quality standards that Nintendo is known for." At times, the entire development of a game is scrapped.
Miyamoto and fellow developers refer to this scrapping as "Chabudai Gaeshi" (ちゃぶ台返し, "upending the tea table"), a reference to manga and anime Star of the Giants.It is also referred to as "Miyahon Check" (Miyahon is an alternative kanji reading of Miyamoto) or "Miyamoto Test".
* "Twinkle Popo" was a completed product with a pre-order of 26,000 units. It was supposed to be released under the game's developer, HAL Laboratory. Miyamoto intervened arguing that, with a tiny bit of tweaking, it would become a great game. After canceling the pre-order, the game was eventually released under Nintendo with the title Kirby's Dream Land, selling 5 million units globally.
* The Legend of Zelda: Ocarina of Time was supposed to be released immediately after the release of the Nintendo 64 (Japanese release date, 6 June 1996). Instead, Miyamoto, who was the producer, repeatedly ordered the game to be redone, resulting in numerous announcements of delays by Nintendo until the game's eventual release on 21 November 1998. Ocarina of Time sold over 7.6 million units, is frequently ranked among the greatest games of all time, and has the highest average review score of any game ever made.
* Eiji Aonuma was initially the producer of The Legend of Zelda: Twilight Princess. However, between 2005 to 2006, he took direction duties while Miyamoto replaced him as producer. Aonuma stated that the switch was the result of a year-long development being "Chabudai Gaeshi"ed. In the same interview, Miyamoto said that he had to clean up the mess of his Chabudai Gaeshi, so he joined in as a producer and also to assist in the development of the GameCube and Wii versions of the game. Upon its release, Twilight Princess received tremendous critical acclaim and commercial success in the West.
Selected Gameography
Below is a list of the most critically successful games either directed, produced, or designed by Shigeru Miyamoto:
* Super Mario Bros. (1985)
* The Legend of Zelda (1987)
* Super Mario Bros. 3 (1990)
* Super Mario World (1991)
* The Legend of Zelda: A Link to the Past (1992)
* Super Mario Kart (1992)
* Super Mario 64 (1996)
* The Legend of Zelda: Ocarina of Time (1998)
* Metroid Prime (2002)
* Super Mario Galaxy (2007)
This is a list of all Nintendo games created by Shigeru Miyamoto:
To date, Shigeru Miyamoto has participated in the production of 84 games, of which 54 as producer, 6 as director, 4 as producer/director, 4 as supervisor, 4 as designer, 3 as general producer, and 1 as co-director.
| Title | Year Released | Console Name | Director | Producer | Designer |
| --- | --- | --- | --- | --- | --- |
| Donkey Kong | 1981 | Arcade | | - | |
| Donkey Kong Jr. | 1982 | Arcade | | - | - |
| Mario Bros. | 1983 | Arcade | - | - | |
| Devil World | 1984 | NES/Famicom | - | - | |
| Donkey Kong 3 | 1984/1986 | Arcade | | - | - |
| Ice Climber | 1985 | NES/Famicom | - | | - |
| Super Mario Bros. | 1985 | NES/Famicom | | - | - |
| Super Mario Bros.: The Lost Levels | 1986 | Famicom | | - | - |
| The Legend of Zelda | 1986/1987 | NES/Famicom | | | - |
| Yume Kōjō: Doki Doki Panic | 1987 | Famicom | - | | - |
| Zelda II: The Adventure of Link | 1987/1988 | NES/Famicom | - | | - |
| Mother | 1989 | NES/Famicom | - | | - |
| Super Mario Bros. 3 | 1988/1990 | NES/Famicom | | - | - |
| F-Zero | 1990/1991 | SNES/Super Famicom | - | | - |
| Super Mario World | 1990/1991 | SNES/Super Famicom | - | | - |
| The Legend of Zelda: A Link to the Past | 1991/1992 | SNES/Super Famicom | - | | - |
| Super Mario Kart | 1992 | SNES/Super Famicom | - | | - |
| Mario Paint | 1992 | SNES/Super Famicom | - | | - |
| Wave Race | 1992 | Game Boy | - | | - |
| The Legend of Zelda: Link's Awakening | 1993 | Game Boy | - | | - |
| Star Fox | 1993 | SNES/Super Famicom | - | | - |
| Super Mario All-Stars | 1993 | SNES/ Super Famicom | | | - |
| Yoshi's Safari | 1993 | SNES/Super Famicom | - | | - |
| Kirby's Adventure | 1993 | NES/Famicom | - | | - |
| Donkey Kong | 1994 | Game Boy | - | | - |
| Stunt Race FX | 1994 | SNES/Super Famicom | - | | - |
| Killer Instinct | 1994 | SNES/Super Famicom | - | | - |
| Super Mario World 2: Yoshi's Island | 1995 | SNES/Super Famicom | - | | - |
| Mole Mania | 1996 | Game Boy | - | | - |
| Super Mario RPG: Legend of the Seven Stars | 1996/1997 | SNES/Super Famicom | - | | - |
| Super Mario 64 | 1996/1997 | Nintendo 64 | | | - |
| Wave Race 64 | 1996/1997 | Nintendo 64 | - | | - |
| Mario Kart 64 | 1996/1997 | Nintendo 64 | - | | - |
| Star Fox 64 | 1997 | Nintendo 64 | - | | - |
| Yoshi's Story | 1997/1998 | Nintendo 64 | - | | - |
| 1080° Snowboarding | 1998 | Nintendo 64 | - | | - |
| F-Zero X | 1998 | Nintendo 64 | - | | - |
| The Legend of Zelda: Ocarina of Time | 1998 | Nintendo 64 | | | - |
| F-Zero Expansion Kit | 1999 | Nintendo 64DD | - | | - |
| Mario Artist | 1999 | Nintendo 64DD | | | - |
| Mario Party | 1999 | Nintendo 64 | - | - | - |
| Super Smash Bros. | 1999 | Nintendo 64 | - | | - |
| The Legend of Zelda: Majora's Mask | 2000 | Nintendo 64 | - | | - |
| Paper Mario | 2001 | Nintendo 64 | - | | - |
| Super Mario Advance | 2001 | Game Boy Advance | - | | - |
| Wario Land 4 | 2001 | Game Boy Advance | - | | - |
| Luigi's Mansion | 2001 | GameCube | - | | - |
| Wave Race: Blue Storm | 2001 | GameCube | - | | - |
| Mario Kart: Super Circuit | 2001 | Game Boy Advance | - | | - |
| Pikmin | 2001 | GameCube | - | | - |
| Super Smash Bros. Melee | 2001 | GameCube | - | | - |
| Super Mario World: Super Mario Advance 2 | 2002 | Game Boy Advance | - | | - |
| Doshin the Giant | 2002 | GameCube | - | | - |
| Eternal Darkness: Sanity's Requiem | 2002 | GameCube | - | | - |
| Super Mario Sunshine | 2002 | GameCube | - | | - |
| Yoshi's Island: Super Mario Advance 3 | 2002 | Game Boy Advance | - | | - |
| Metroid Prime | 2002 | GameCube | - | | - |
| Star Fox Adventures | 2002 | GameCube | - | | - |
| The Legend of Zelda: The Wind Waker | 2002/2003 | GameCube | - | | - |
| F-Zero GX | 2003 | GameCube | - | | - |
| Mario Golf: Toadstool Tour | 2003 | GameCube | - | | - |
| F-Zero GP Legend | 2003/2004 | Game Boy Advance | ? | ? | ? |
| Donkey Konga | 2003 | GameCube | - | | - |
| Pac-Man Vs. | 2003 | GameCube | - | | |
| The Legend of Zelda: Four Swords Adventures | 2003 | GameCube | - | | - |
| Donkey Kong Country | 2003 | Game Boy Advance | - | | - |
| Mario Kart: Double Dash | 2003 | GameCube | - | | - |
| Mario & Luigi: Superstar Saga | 2003 | Game Boy Advance | - | | - |
| Metroid Prime 2: Echoes | 2004 | GameCube | - | | - |
| Animal Crossing | 2004 | GameCube | - | | - |
| Pikmin 2 | 2004 | GameCube | - | | - |
| Paper Mario: The Thousand-Year Door | 2004 | GameCube | - | | - |
| Donkey Kong Jungle Beat | 2004 | GameCube | - | | - |
| Mario vs. Donkey Kong | 2004 | Game Boy Advance | - | | - |
| Super Mario 64 DS | 2004 | Nintendo DS | - | | - |
| Star Fox: Assault | 2005 | GameCube | - | | - |
| Geist | 2005 | GameCube | - | | - |
| Nintendogs | 2005 | Nintendo DS | - | | - |
| Mario Kart DS | 2005 | Nintendo DS | - | | - |
| Mario vs. Donkey Kong 2: March of the Minis | 2006 | Nintendo DS | - | - | - |
| New Super Mario Bros. | 2006 | Nintendo DS | - | - | - |
| Wii Sports | 2006 | Wii | - | | - |
| The Legend of Zelda: Twilight Princess | 2006 | GameCube/Wii | - | | - |
| Super Paper Mario | 2007 | Wii | - | - | - |
| Super Mario Galaxy | 2007 | Wii | - | | |
| Mario & Sonic at the Olympic Games | 2007 | Wii | - | - | - |
| Wii Fit | 2007 | Wii | - | - | |
| Super Smash Bros. Brawl | 2008 | Wii | - | | - |
| Mario Kart Wii | 2008 | Wii | - | | - |