Game Boy Mario games!
Game Boy console!
The Game Boy is a handheld game console developed and manufactured by Nintendo , released in 1989 at $89.95 USD. The Game Boy was the first successful handheld console, and was the predecessor of all other iterations of the Game Boy line .
The Game Boy was originally bundled with the puzzle game Tetris , since Nintendo thought that an addictive puzzle game would get consumers' attention.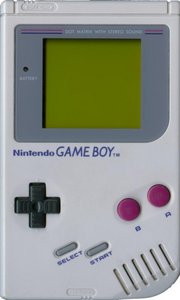 Several accessories compatible with the Game Boy were also produced:
The Game Boy Battery Pack (or AC Adapter ), sold for about $30 USD , was roughly 3 in. long, 2 in. wide, and 0.5 in. thick. One end of it had a 2 inch-long cord, ending in a 3.5 mm phone plug , while the other end had a standard two-pin plug . The first version of it was gray with purple lettering, to match the colors used on the Game Boy. It also featured a belt clip. The battery pack was good for several hours of gameplay per charge, providing an alternative to purchasing more AA batteries once their power was exhausted. The product used nickel-cadmium batteries , lasted about 4-5 hours per charge, and could be charged roughly 1000 times before a significant loss in effectiveness. A major drawback of the battery pack was its weight, as well as the way the phone plug sticks out prominently.
Game Boy Camera (Japan: Pocket Camera)

Released in 1998, the Game Boy Camera was able to take pictures that could be printed out using the Game Boy Printer. The photos were in black and white only, and the resolution of the pictures was 128 x 123. Both the Game Boy Camera and Game Boy Printer products were marketed together in Japan , the U.S. , and Europe , primarily towards children. It is no longer in production by Nintendo .
Game Boy Printer Released at the same time as the Game Boy Camera, the Game Boy Printer was a thermal printer. It ran off of six AA batteries . In addition to printing out Game Boy Camera photos, it also ran in conjunction with several Game Boy games, such as Pokémon Yellow and The Legend of Zelda: Link's Awakening DX .
Game Boy Link Cable

An accessory that established a data connection between two Game Boys using the same game or game from the same series. It is generally associated with its uses in the Pokémon series, which included versus battle and an exchanging of Pokédex data.