Mario Wall Stickers
I've been meaning to write about Super Mario Wall Stickers for a long time now but I just never seem to get around to it! Well, today I'm making a positive change in my life. My days of not sharing cool Mario decorations are in the past and I'm going to reform! In honor of this momentous occasion I'm going to share with you some secrets to awesome up your home with Mario Wall Stickers!
We have always liked to encourage you to bring a little bit of Mario into your life outside of the video game world and with these cool wall decals it is easily possible.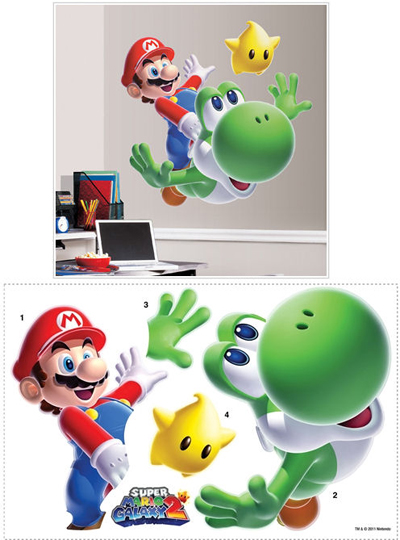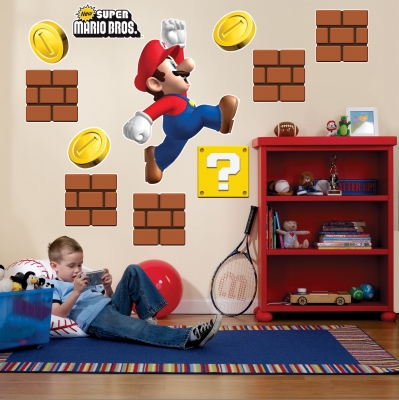 A word to parents and concerned home owners: Before you apply your stickers make sure they are the Re-stickable Vinyl Wall type Decals! A friend of mine thought he purchased wall decorations but he actually bought some surprisingly durable stickers that left a nice hole in his wallpaper when he was moving out.
Depending on which set you buy you can really Mario-fy any room of your house. This is another great reason to make sure you get the re-stickable kind of super Mario Stickers, you may want to change your scene around or even move them to another room of your house. Add some fun to your child's bedroom with a Mario mural or add some interest to your boring lounge room with some cool Mario kart decals.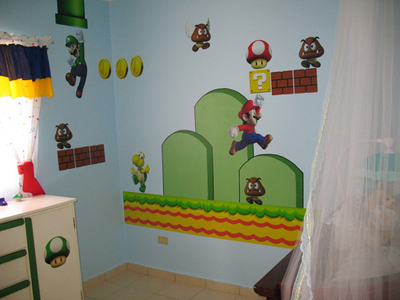 I'll note that most of these products are for ages 3 AND UP, so to all you older Mario fans out there don't be afraid to deck out your apartments or offices with some Mario Mayhem!
Find the Mario Wall decals that best suit your Mario taste! These days there is a wide selection from all gaming platforms. From the traditional Super Mario Bros from the NES to the latest Wii classics like Mario Galaxy 2.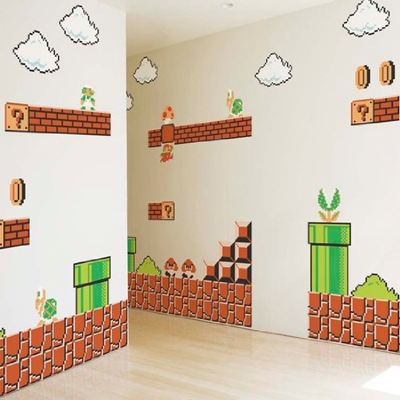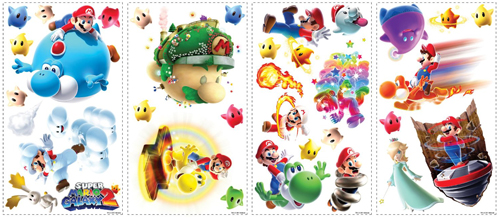 For the more racing inclined why not get yourself some giant Mario Kart Wii stickers?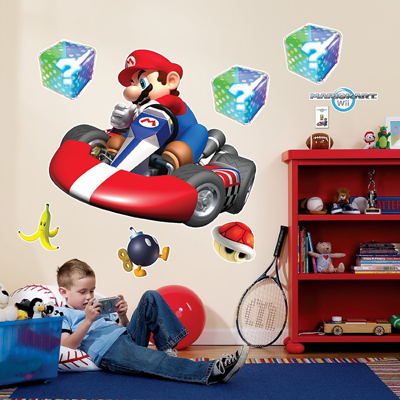 If you love these Super Mario Wall Stickers then you are sure to love Mario Chess too!
Many thanks to Dennis for sending in this picture of his own decorated Mario room!
Click to enlarge