Super Mario Guitar Tab
Looking for a new Mario guitar tab? You have come to the right place! Sheet music can be tough to follow, especially if you haven't had any formal musical training, making guitar tablature an awesome (easier) way to learn your favorite songs and tunes.

Thanks to a variety of musically talented Nintendo fans we can actually bring you a collection of various Super Mario guitar tabs that you can download or view on our site and play along with.

As with all of our pages, if you have a Super Mario guitar tab that isn't shown here please get in contact with us as we would love to share it with the world.
If you want to learn some more Mario tunes check out this great Super Mario Series for Guitar: Guitar Tabs book!
If you are completely new to guitar or just haven't played for a while you should check out this incredible free guitar course. They don't cover the Mario theme (right away anyway) but they will get you playing guitar! Go and sign up now!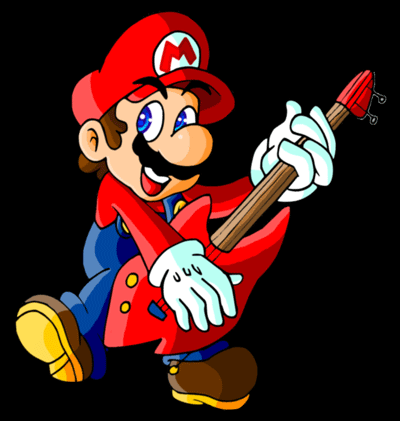 Let's start off with a simple Super Mario Theme guitar tab:

Here is the classic intro:

E---12--12--12-----12--15--------------------
B---------------13---------------------------
G-----------------------------12-------------
D--------------------------------------------
A--------------------------------------------
E--------------------------------------------

This verse is played twice:

E---8---------5--7-6-5---------0--3-5--1-3-0------------
B------8--5-------------------------------------1-3-0---
G------------------------0------------------------------
D-------------------------------------------------------
A-------------------------------------------------------
E-------------------------------------------------------

These 2 "bars" are also played through twice:
E------3-2-1-----0----------------------3-2-1----0--8--8-8---
B------------4----------1-----1-3-------------4-----6--6-6---
G---------------------2-----2--------------------------------
D-------------------3----------------------------------------
A---3--------------------------------3-----------------------
E------------------------------------------------------------

E--------3-2-1------0---------------------------------------
B--------------4------------1-----1-3---4-3-1---------------
G-------------------------2-----2---------------------------
D--5--------------------3-----------------------------------
A----3-------------------------------------------------3----
E--------------------------------------------------3-3------

This lot is played through once:

E---------------0-------------------------0---------
B--1-1--1--1-3----1-------1-1--1--1-3---------------
G-------------------2-0-----------------------------
D----------------------------------------------5----
A--------------------------------------------3---3--
E---------------------------------------------------

E----------------0--------- E---12--12--12-----12--15---------------
B--1-1--1--1-3-----1------- B---------------13----------------------
G--------------------2--0-- G---------------------------12----------
D-------------------------- D---------------------------------------
A-------------------------- A---------------------------------------
E-------------------------- E---------------------------------------

E--0--------------1-1----------5-5-5-3-1---0----------
B----1---------------------------------------1--------
G------0--1-2---------2----2-------------------2-0----
D-----------------------------------------------------
A-----------------------------------------------------
E-----------------------------------------------------

E--0--------------1-1---------1-1-1-0-----0---------
B----1--------------------------------3-----1-------
G------0--1-2--------2-----2------------------2-0---
D---------------------------------------------------
A---------------------------------------------------
E---------------------------------------------------

Chop chop Mario, time is running out:

E------10--10-10--------11--11-11----------12--12-12----------13-13---
B----8----------------9-----------------10-----------------11---------
G---------------------------------------------------------------------
D---------------------------------------------------------------------
A---------------------------------------------------------------------
E---------------------------------------------------------------------

If you want to get technical, the game then plays the intro once more as follows:

E-------12--12--12-----12--15----------------
B-------------------13-----------------------
G------------------------------12------------
D--------------------------------------------
A--------------------------------------------
E--------------------------------------------


E--0------------1-1--------5-5-5-3-1---0-------------
B----1-----------------------------------1-----------
G------0--1-2--------2---2-----------------2-0-------
D----------------------------------------------------
A----------------------------------------------------
E----------------------------------------------------


E--0--------------1-1---------1-1-1-0-----0----------
B----1--------------------------------3-----1--------
G------0---1-2---------2---2------------------2-0----
D----------------------------------------------------
A----------------------------------------------------
E----------------------------------------------------

Fuzzymonkey tabs have made this awesome video showing you how to play it through: