Mario Pinball
I remember as a child walking into a little arcade (known as "Galaxy World") one day. I walked around a little, played some ticket games (I never got enough for that awesome cap gun), watched a pro completely dominate at street fighter and also discovered possibly the most wonderful thing in the world, a Mario Pinball machine.
There she laid, nestled in dark corner between a wall and the Indiana Jones pinball machine, The super Mario bros mushroom world pinball machine. She was magnificent! Made by Gottleib in 1992 and a bizarre short, kid friendly size, it's bright yellow Mario 3 covered markings instantly grabbed my Mario crazed attention!
The machine I played was simply a coin operated stand alone game but I have since found out that this Mario Pinball machine was actually the first ever pinball that was made to either give tickets (to win prizes) or simply play as a standard game.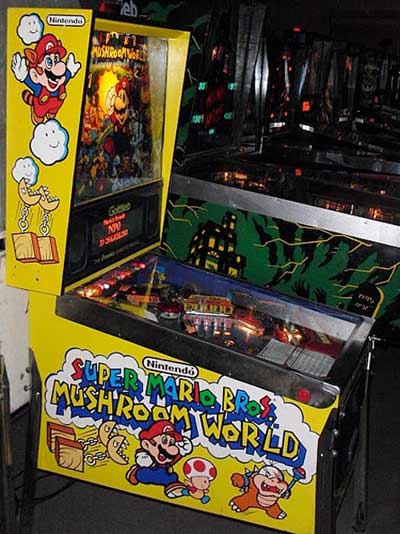 I saw one of these for sale once but unfortunately the seller didn't return my emails. I think there are still a few flying around however in varying states of disarray and I'm sure a dedicated fan would be able to track one down somehow!
For those of you that are interested we have got our hands on the actual manual for the Super Mario Bros Mushroom World Pinball! In this manual you can see how the game works and also how you would change the settings as an owner.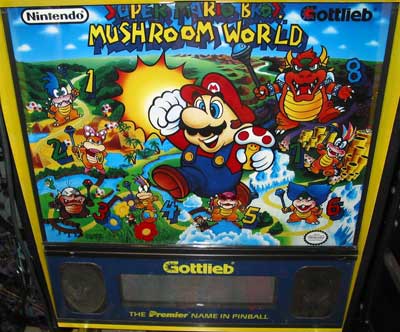 If you are interested in the inner workings of pinball machines and if you want to see the actual game play of one of these Mario pinball machines then be sure to check out this fantastic video (cut to 3mins and 15 secs if you just want to see the game play)

And finally, here are a few more pictures of this awesome Mario Pinball!