Mario Chess
Chess is one of those awesome games of strategy that any age group (well I guess 7 and up at least!) can play and test their skills. In my opinion there are a lot of similarities between the Mario series and chess, taking away even the board game style play of Mario Party, I am talking about the idea of staying several moves ahead of your opponent and testing your concentration skills. So what better marriage? I'm a big fan of chess and when I came across this Mario Chess set I just had to write a quick article to share it with you.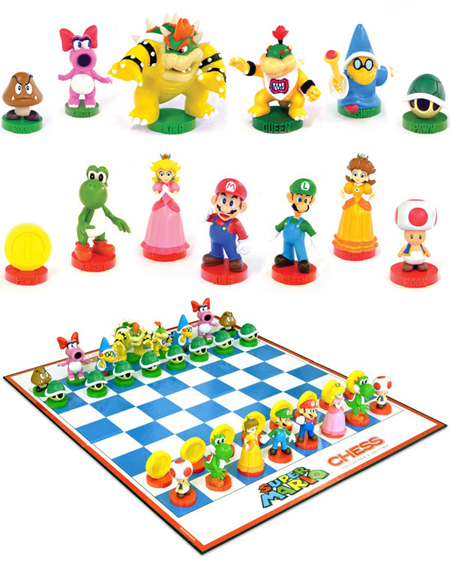 Product Dimensions: 10.7 x 10.7 x 3.3 inches; 3.2 pounds
Ages: 7 and up
Includes: 2 sides of 16 hand-painted pieces featuring the teams Mario vs. Bowser. The game is packaged in a metal collector's box and comes with the game board and instructions.
Other Features:
Chess game board & pieces features unique design from the Super Mario video game franchise
Mario's Troop takes on Bowser¿s Troop in classic good guys versus bad guy¿s game play
Familiar Chess game plays with new, Super Mario-themed chess pieces
Includes Mario, luigi, princess peach, yoshi, toad, 1-up mushroom, bowser, bowser jr, birdo, goomba, hammer bros, and magikoopa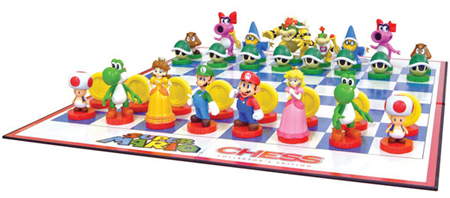 Possibly one of the most amusing things about this awesome super Mario chess set is the Queen of Mario's team. That's right, Luigi has stood up as the Queen piece for the good guys! Brotherly love? I guess I will leave it up to you to draw your own conclusions when you get yourself a set.
If you are a chess fan yourself or even if you are just wanting to pass on the great game of chess to your kids, check out this super Mario chess set today! For under $40 you can bring Mario into your board game time and combine our beloved plumber with one of the classic thinking games of our time. Get yourself a Mario Chess set today!