Nintendo DS Mario games!
Nintendo DS console!
Released: November 21, 2004
The Nintendo DS , sometimes abbreviated NDS or DS , is a handheld game console developed and manufactured by Nintendo , and first released in 2004 . The console features a clamshell design, with two LCD screens inside - one of which is a touch-sensitive screen .
The DS can stand for "Dual Screen," and Developers' System, from Nintendo's belief that the system "gives game creators brand new tools which will lead to more innovative games for the world's players."
On March 2 , 2006 , Nintendo released the Nintendo DS Lite in Japan , a redesigned system which is slimmer and lighter with brighter screens, a longer and thicker stylus for the touch screen, and a relocated microphone. It was released later the same year in North America , Europe , Australia , and China.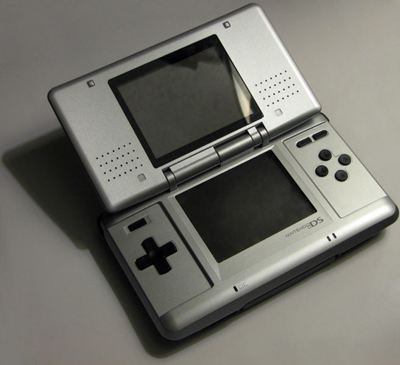 Accessories
Although the secondary port on the Nintendo DS does accept and support Game Boy Advance cartridges (but not Game Boy, and Game Boy Color cartridges), Nintendo has emphasized that its main intention for its inclusion was to allow a wide variety of accessories to be released for the system, the Game Boy Advance compatibility titles being a logical extension.
Nintendo announced at E³ 2005 that it would launch "Headset Accessories" for VoIP enabled games. (This will plug into the VoIP plug next to the Ear Phone jack, not the Game Boy Advance slot.)
Rumble Pak
The Rumble Pak was the first official expansion slot accessory. In the form of a Game Boy Advance cartridge, the Rumble Pak vibrates to reflect the action in compatible games, such as when the player bumps into an obstacle or loses a life. It was released in North America and Japan in 2005, as a separate accessory and bundled with Metroid Prime Pinball A specially designed Rumble Pak was released in Japan in late May 2006 for the Nintendo DS Lite The cartridge is about 1 cm shorter to prevent it from protruding out of the Nintendo DS Lite as standard Game Boy Advance cartridges do.
Nintendo DS Headset
The Nintendo DS Headset is the official headset for the Nintendo DS. It plugs into the headset port (which is a combination of a standard 3.5mm headphone connector and a proprietary microphone connector) on the bottom of the system. It features one earphone and a microphone, and is compatible with all games that use the internal microphone. It was released in Japan on September 14 , 2006.
Opera internet browser
On February 15 , 2006 , Nintendo announced a version of the cross-platform web browser Opera for the DS system. The browser can use one screen as an overview, a zoomed portion of which appears on the other screen, or both screens together to present a single tall view of the page. The browser went on sale in Japan and Europe in 2006. Releases in other regions are expected in 2007.
Nintendo Wi-Fi USB Connector
This USB-flash-disk-sized accessory plugs into a PC's USB port and creates a miniature hotspot, allowing up to five Nintendo DS units to connect to the Nintendo Wi-Fi Connection service through the host computer internet connection. Currently this device is only compatible with Windows XP.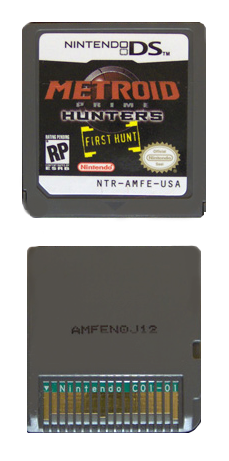 Nintendo MP3 Player
On November 22 , 2006 , Nintendo confirmed an MP3 player accessory for the DS will launch in Europe on December 8 , 2006 . No price has been released by Nintendo, but many sources suggest a €30 price tag. The add-on will use SD cards and will use an odd 8-bit style GUI. The cause for such a low bit GUI is that to run MP3s the DS is forced to use the ARM9 processor, which is also used for running the GUI and most of the game code. Running MP3s on the ARM9 will use about 95% of it. Other non-Nintendo brand compact flash (CF) memory card readers which claim to turn the DS into a "multimedia powerhouse" have been released and are avaible at retail stores such as Walmart. The CF readers can view MPEG4 videos and play WMA and MP3 music files. They retail for $40.