Yoshi's Island (Super Mario World 2)

Released: Late 1995
The game, which takes place before the original Super Mario World , begins with Baby Mario and Baby Luigi being delivered by the stork to their parents in the Mushroom Kingdom . Kamek the Magikoopa senses that the brothers will cause great trouble to the Koopas in the future, so he attempts to kidnap them. Kamek captures the stork and young Luigi, but Mario (along with Kamek's map to Bowser's castle) falls to the ground and lands on a Yoshi 's back. The Yoshis decide to protect Baby Mario and rescue his brother, along with the captured stork, who knows who the boys' parents are. Along the way, they must fight through Kamek's creatures and the hostile inhabitants of the island. Kamek appears several times, using his spells (commonly called by fans as "steroid magic") to make normal enemies grow to monstrous sizes to become bosses.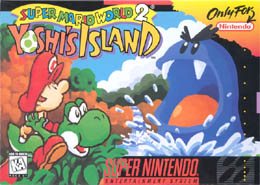 Eventually, after a long tiring adventure of getting attacked, speared, eaten and cursed, the Yoshis make it to the Koopa Kingdom (World 6), and Green Yoshi infiltrates Kamek's castle. Inside the final chamber, Kamek pleads with Yoshi to hand over Baby Mario, but the noise awakens Baby Bowser (Koopa in the Japanese version). Baby Bowser complains that Kamek woke him up, and proceeds to attack him before flattening him and casually kicking him offscreen. Noticing Yoshi, Baby Bowser demands a ride on the "gween donkey", and attacks when Baby Mario won't get off Yoshi's back. When Yoshi defeats Baby Bowser, Kamek uses his magic on his master, and makes Baby Bowser grow to monstrous size. Even larger than the full-grown Bowser, Baby Bowser destroys the majority of the castle as he grows too big for the room. Baby Bowser was in the background. he'd cause rocks to make gaps in the floor or he would aim for a few seconds and spit a fireball at Yoshi. Also, Yoshi would lose a life if he got too close. Yoshi had to grab eggs from balloons that drifted by. And the eggs don't go straight when thrown. Therefore, he had to aim in the right spot to hit Baby Bowser in the face. After seven impacts with eggs, Baby Bowser was defeated, when the spell breaks and he collapses on the ruins of the roof. Kamek quickly scoops up his young charge and flies away into the night, shouting that they'll be back someday. Yoshi then finds the captured stork, along with Baby Luigi. Both are set free, and the siblings are taken to their parents.
Gameplay
Yoshi's Island made Yoshi the main playable character for the first time in a Mario game. At the beginning of each level, Baby Mario is passed between different-colored Yoshis. All the Yoshis have the same range of moves, such as stomps and tongue-licks. If the player holds down the jump button the Yoshis pedal their feet furiously in the air to achieve a floating effect; this allows them to stay airborne for a couple of seconds and gain a little extra height. This floating maneuver may be performed multiple times if necessary.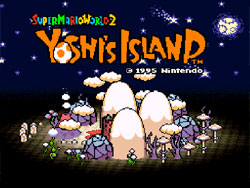 Yoshis can collect eggs during their travels across the levels by utilising their unique metabolism to instantaneously digest enemies that they had swallowed. These eggs follow Yoshi along until they were thrown. Many of the game's puzzles involve bouncing eggs around the levels or skimming them over water to hit distant enemies or objects. In addition to eggs, Yoshi may also collect keys to open locked doors. Finally, duck-like creatures (called Huffin' Puffins) exist in a few levels; these travel a short distance then return to you. Up to six objects can follow Yoshi at a time, whether they are eggs, keys, or Puffins.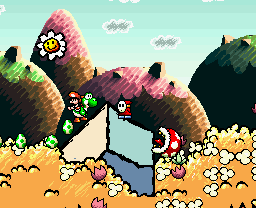 Unlike other platform games in the Mario series, the player's character can be attacked an unlimited number of times by most enemies without harm. Whenever Yoshi is hit by an enemy, Baby Mario flies off his back, floating around the level in a bubble and wailing loudly as a countdown timer begins. If the countdown reaches zero before Yoshi tags the bubble, Kamek's servants capture Mario and the player loses a life. At the beginning of each level, the countdown timer begins at ten; the player can add time to the countdown to a maximum of thirty by collecting stars in each stage. If Yoshi rescues Baby Mario by touching the bubble when the countdown is less than ten, the timer is slowly replenished back to ten as long as Mario remains on Yoshi's back. Some traps, however, can kill Yoshi instantly, such as pits, spikes, and lava.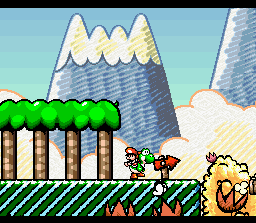 At the end of each level, the player jumps through a 'roulette' ring and the level is scored. The player earns points based on three criteria:
Every star , remaining on the countdown timer is worth one point. Up to thirty stars can be collected.
Scattered among the coins in each level are twenty special red coins ; each one collected is worth one point.
Hidden throughout each stage are five flowers ; each one collected is worth ten points, and for every flower collected you have another flower displayed on the roulette ring.
100 points is a perfect score in each level.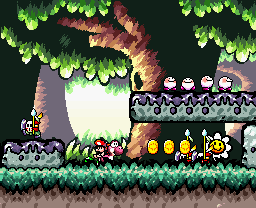 If the roulette stops on a flower, the player plays a game to earn lives or items. Six different games are available, ranging from a scratch-card-type game to a memory-matching-type game.
There are 6 worlds in Yoshi's Island . Worlds 1 and 2 have no particular theme. World 3 has a jungle theme, World 4 has a mountain theme, World 5 opens with a snow theme before taking to the mountain peaks and the skies, and World 6 has a dark cave-like theme. In both the SNES and the Game Boy Advance versions, there is a short stage before the player starts World 1 that the player must get through (and will never be played again unless a new game is started, but in the GBA version, it appears as the last area of a secret level). In the Game Boy Advance version, if the player presses select, at the top of the screen it will say "World 0-0".
In the SNES version, there are nine stages in every world: eight regular stages and one unlockable extra stage and a free bonus stage to play for free, accessed by scoring a perfect 100 points in each of the world's regular stages. In the Game Boy Advance version, however, a new "secret" stage was added to each of the six worlds for a total of ten stages per world and 61 stages in the entire game (including stage 0-0).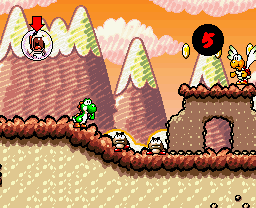 This game marks the debut of Poochy, a happy dog-like character who will let Yoshi ride him — in effect making Baby Mario riding Yoshi riding Poochy. Poochy shows up in later games, such as this game's sequel Yoshi's Story, as well.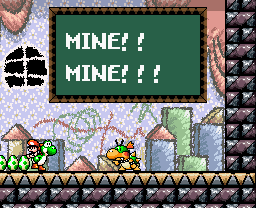 In a secret room in 5-4, accessed by defeating a Chain Chomp with the item 'POW block', there is a ChatterBox (a talking face box that, when hit, provides a message) containing a "top secret" hint that the player must "hold the "select" button while pressing X twice, Y, B, and A". This was to be done only on the level/world selection map. For Yoshi's Island: Super Mario Advance 3 Gameboy Advance version, the code was changed to "Hold the "select" button while pressing L twice, B, A, and R". Inputting this code allows you to play various mid-level bonus games from a menu, some of them even having a versus mode with the second player.