Super Mario Bros 1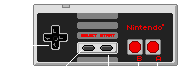 What can one write on a page such as this? I mean, come on people, this is Super Mario Bros 1 for the Nes. It doesn't get any more Mario than this!
To get SMB1 started make sure you click in the game area and then hit enter to select 1 player. Unfortunately 2 player mode isn't available!
If you see a blank screen and games don't load then you might need to update your Java!
Back To Mario Nes Games