Mario VS Donkey Kong Miniland Mayhem

Well, it has Mayhem in the title so we just had to write at least a little bit about this game! At the time of writing this article this game is actually still quite new, it was actually only released in the EU in February of this year however it was originally released in Northern America and Australia on November 14, 2010. This cool little single player puzzle game is actually the 4th game in the "Mario Vs Donkey Kong" series which suggests (at least to me) that this little franchise is proving quite successful. This game was also very well received by numerous sources, IGN for example gave it a rating of 9/10 and claimed that "it is a pure joy to play", even the official Nintendo Magazine gave it 90%!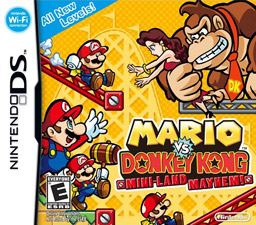 The construction zone where you can build your own levels still exists. At first glance it looks extremely similar to the construction zone of "Mario Vs Donkey Kong: minis march again!" but in this construction zone you can actually change the attraction of the level (as you are editing it) and also use every item from every attraction! Pretty cool hey?

I have always loved the good nature of Mario games and this one is no different.

If you don't want to know the basic plot of this game look away now!

Mario vs donkey kong miniland mayhem game plot:

In this game Mario makes an appearance at the grand opening of a new amusement park called "Mini Land" but he isn't alone. No, Luigi doesn't follow him, this time it is Pauline! In honor of his special guest the first 100 people through the gates get a free mini Pauline toy. Guess who is the 101st person in line though? You guessed it, Donkey Kong. Naturally our primate friend goes into a rage and steals the real Pauline! This leaves Mario (and the toys) to battle with DK until Mario can rescue Pauline (I'm seeing a bit of a theme in these Mario games…). Eventually Donkey Kong is defeated but luckily Mario has a spare mini-Pauline toy on hand that DK gratefully receives. To show everyone is a big happy family again they all ride the Ferris wheel as the credits roll!

Official Game Trailer: