Super Mario Bros 3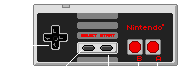 Do you remember where those warp whistles are hiding? It's time to find out!
SMB3 for the NES has been one of the most successful video games of all times. Released in the states in 1990 it was such a success that it even spurred on the Super Mario Bros 3 cartoon series!
Mario Mayhem is not responsible for any time lost spent playing Super Mario Bros 3 here!
If you see a blank screen and games don't load then you might need to update your Java!
Back To Mario Nes Games