Super Mario All Stars Wii Limited Edition Soundtrack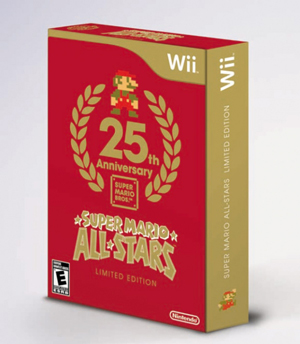 This little gem was released recently as part of Nintendo's 25th anniversary of Mario re-release of Mario All Stars for the wii! Not long ago Nintendo released a "collectible reissue" of the classic "Mario All Stars" (which in itself was a remake of the NES classics...now that's marketing!) for the wii that came paired with a cool box, a poster and this awesome little sound track.
The soundtrack itself features a collection of some pretty token Mario tunes and sounds. That's right, you will hear classics such as "Super Mario Bros. Ground Theme" and also short clips of classic moments such as "small mario jump" and "coin"...it's a wild ride of Mario awesomeness!
If you want to own the full collection of this Mario All Stars release for the wii you can get the full package on Amazon. You could be reliving the nostaligic mushroom kingdom journey whilst blasting a series of funky Mario sounds and level themes at the same time from your stereo or pc!
Download the Super Mario All Stars Wii Limited Edition soundtrack:
18 Game Over.mp3
19 Course Clear.mp3
16 Hurry Up.mp3
08 Super Mario Galaxy- Main Theme.mp3
15 Pipe Travel _ Power Down.mp3
01 Super Mario Bros.- Ground Theme.mp3
20 World Clear.mp3
05 Super Mario 64- Slider.mp3
12 Small Mario Jump.mp3
13 Power-Up.mp3
14 1-Up.mp3
11 Coin.mp3
04 Super Mario World- Ground Theme.mp3
09 New Super Mario Bros. Wii- Title.mp3
02 Super Mario Bros. 2- Ground Theme.mp3
17 Lost A Life.mp3
06 Super Mario Sunshine- Delfino Pla.mp3
10 Super Mario Galaxy 2- Main Theme.mp3
03 Super Mario Bros. 3- Atheltic The.mp3
07 New Super Mario Bros.- Main Theme.mp3
Back to Mario Sound Tracks