Mario's Time Machine NES Game Maps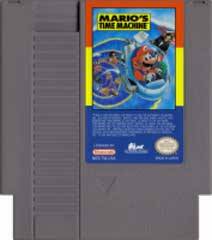 Ah to be honest this game was one of the more frustrating of the Mario variety that I have played! I never actually owned the game so my experience is limited to overnight hires and playing at friends houses...maybe I missed part of the fun because of it though!
Mario's Time Machine was actually released for the SNES first (December 1993) and then released for the NES later in April 1994! It was originally released to teach youngsters about history, but I'm not sure how successful it was at that! Mario's Time Machine sends our plumbers through time to put back a bunch of artifacts stolen by Bowser, if we are too slow then history becomes irreversibly damaged!
Get ready to jump into your Timulator's, it's time for Mario's Time Machine Game Maps!
Back to Mario Game Maps