Mario Party 5

Released: November 10, 2003
Mario Party 5 is the fifth in a series of board game style video games for Nintendo platforms, featuring popular Nintendo characters. It was released on the Nintendo GameCube in North America on November 10 , 2003 . In Mario Party 5 , Mario and his friends are trying to restore peace to Dream World, which is invaded by Bowser.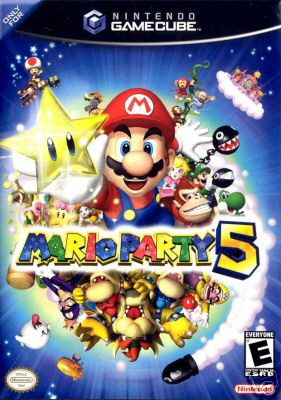 First off, in single player, all the Koopa Kids move at the same time, quickening game play. The point of single player mode is to deplete all of the Koopa Kids' coins by beating them in mini-games.
It also features a whole new mode, Super Duel Mode. In this mode, one buys vehicle parts using points received by playing mini-games and build a battle vehicle to use in different tournaments or against friends. To unlock all the different parts, one must play all the tournaments and beat certain opponents.
As usual, this new installment to the Mario Party series comes with new mini-games, characters, and maps. Toad , Boo , and even Koopa Kid are the new playable characters. In this game, Donkey Kong is only a playable character in Super Duel Mode once one unlocks him. In party mode, he now shows up on new Donkey Kong spaces and either gives the players coins/stars or starts a Donkey Kong mini-game which involve collecting bananas for a predetermined amount of coins. (It is unknown why they removed him from the series.)
The game was also significant for being the second in the series to introduce 3D game boards. Previous titles, all except for Mario Party 4 , utilized pre-rendered backgrounds, which were static and limited in their presentation. As a result all subsequent Mario Party titles, with the exception of "Mario Party Advance" on the Game Boy Advance, have employed 3D backgrounds allowing for much more dynamic fields of play.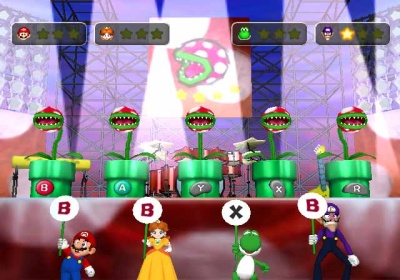 Characters
Mario
Luigi
Princess Peach
Yoshi
Wario
Princess Daisy
Waluigi
Toad (new character)
Boo (new character)
Koopa Kid (new character)
Non-Playable Characters
Donkey Kong (No longer on the playable characters list) (Super Duel Mode only)
Star Spirit (They have returned to host Mario Party 5)
Bowser (Still has his space and mini-games) (Now hosts the last 5 turns event)Bowser is able to appear as a challenger in Super Duel Mode, but he cannot be played as.
Red Koopa Kid (Challenger in Story Mode)
Green Koopa Kid (Challenger in Story Mode)
Blue Koopa Kid (Challenger in Story Mode)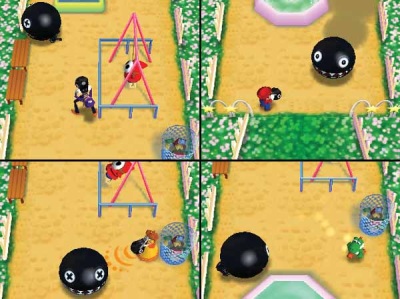 Boards
Toy Dream
Rainbow Dream
Pirate Dream
Undersea Dream
Future Dream
Sweet Dream
Bowser Nightmare