Mario & Sonic at the Olympic Games

Released November 6th 2007 in North America
Mario & Sonic at the Olympic Games is a sports game developed by Sega set for release on the Wii gaming console in 2007 and the Nintendo DS handheld in all regions by 2008. It is the first official crossover game featuring both Mario and Sonic The Hedgehog, Nintendo and Sega's former rival mascots, along with other characters from their respective series.
The game is officially licensed by the International Olympic Committee through exclusive licensee International Sports Multimedia. It is the first official game of the 2008 Summer Olympic Games to be released, with a more realistic sports game to be later released by Sega in 2008.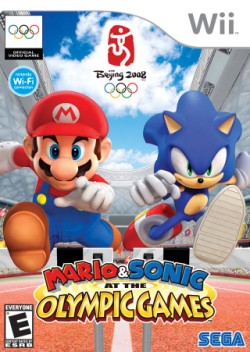 Gameplay
Mario & Sonic at the Olympic Games brings together the aforementioned and at least 15 more characters (it has been stated that over 20 characters are planned) from both of those franchises to participate in environments based on the official venues of the 2008 Summer Olympic Games in Beijing. At the 2007 Wii Connection Tour, Miis were shown as an available option from the character select screen. In addition to the playable roster, there will also be some non-playable characters acting as referees for certain events. Each character has his or her own statistics, which are divided into four categories: All-Around , Speed , Power , and Skill. Speed characters have high top speeds, but generally low dash and acceleration. Power characters have had few details revealed, but they are good at sports such as the hammer throw. All-Round characters have balanced stats, but with a slight advantage and a slight disadvantage in two stats.
The gameplay for Wii is stated to shake the Wii Remote and Nunchuk rapidly, for most events such as the 100 meter run. The game will feature locations based on the official venues for sporting events during the Games; however, these venues will be stylized to fit the art styles of the Mario and Sonic series. There is an unlockable version of some of the Olympic Games called "Dream events". It will feature unlockable stages with familiar items from both gaming worlds.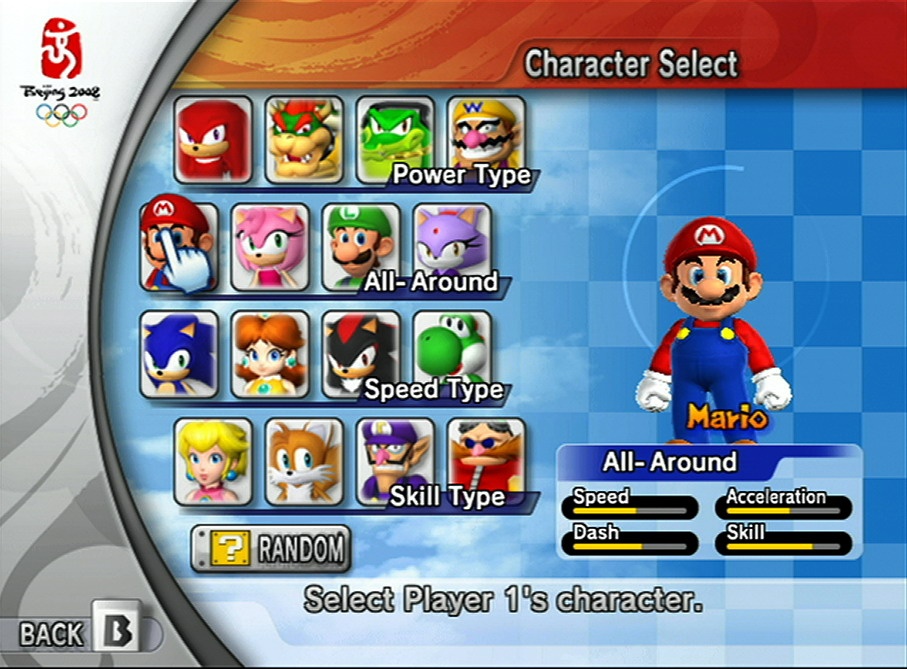 | | | |
| --- | --- | --- |
| " | Innovative usage of the Wii and DS control systems to maneuver a favorite character will allow players to race the likes of Mario and Sonic down the 100m track, engage in exhilarating rallies in table tennis and churn water in a swimming meet, all while competing for the much sought after gold medal. | " |
There will be at least 20 events organized in the tournament and circuit modes, as well as a single-player mission mode for training. Also, leaderboards will make use of the Nintendo Wi-Fi Connection showing the best times and scores. In a more recent interview, Mike Hayes, president and COO of Sega Europe hinted at the inclusion of judo, table tennis, and swimming in addition to the track and field events usually associated with these games. Recent screenshots have revealed a Track event, Hammer throw and Archery. Sega has also hinted of the possibility using the Wii Zapper for skeet shooting.
Development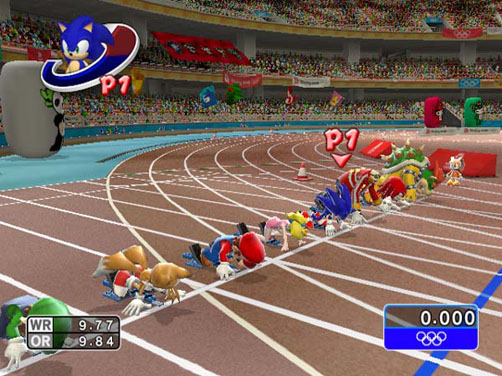 Rumors of Mario and Sonic appearing in a game together started around 2001 when Sega changed its status as a hardware developer to a third-party developer. This resulted in Sega and Nintendo forming a partnership. As far as 2005, Yuji Naka held discussions of a Mario and Sonic video game with Shigeru Miyamoto. Approximately two years later, Sega had obtained the license for the Beijing 2008 and started off as a sole-Sonic game after being told by the International Olympic Committee to expand the game for wider audience. Afterwards, Sega had asked Nintendo for license to include Mario characters in the game and Nintendo agreed. As a result of this and to ensure quality, Nintendo partnered with the developer in-house. The game was first announced by Sega and Nintendo on March 28, 2007, which caused many people to believe it was an early April Fool's joke.
Sega showed the first screenshots and a movie of both versions of Mario & Sonic at the Olympic Games at E3 2007. According to gaming site IGN, Mario creator Shigeru Miyamoto supervised the project and the game or one of its two versions may be co-developed by TOSE, a developer known to not be credited for the games it produces. Sega revealed in early October 2007 that Mario & Sonic at the Olympic Games schedule release date has been advanced by two weeks and the game has gone gold.
Critical reception
Received Best Wii Game of 2007 at the Leipzig Games Convention. GamePro gave it a 3.5/5 for its excellent graphics but shallow gameplay.