January 16th, 2011 - Posted by:
Timby
in
News/information
, tags:
play dvd on wii
,
Wii
,
wii homebrew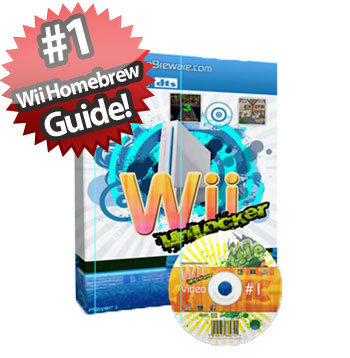 This is a little bit of a follow up from my Wii Homebrew Review that I published on the main website the other day. Wii homebrew can be a great way to safely unlock your wii!
If you are interested in playing backed up games, dvd's, mp3's, emulators and a ton of other cool stuff on your Wii I really recommend buying this Wii homebrew kit for $30, it will be the best enhancement to your wii that you can possibly do! You could turn your wii into a multimedia center in less than 5 minutes!
The Nintendo Wii is currently one of the most popular consoles in the video game industry, with over 75 million units shipped, as of September 2010, it's clear to see that Nintendo has come up with the goods once more. Nintendo's history of fantastic games has been passed to the next generation in the form of a wireless controller and magnificent graphics! The Wii itself is a very powerful little computer, a 729 MHz "broadway" processor and 243 MHz ATI "Hollywood" GPU make it a very capable graphics machine.
But enough about the success and capabilities of the Nintendo Wii, we want to know what Wii Homebrew means and how it can help you. In a nutshell Wii Homebrew refers to being able to play games that have not been endorsed by Nintendo. There are freelance game developers out there making games for the Wii that you can only be played if you have a mod chip or a Wii "softmod".
These modchips or Wii softmods are used to unlock the Nintendo Wii. This unlocking generally allows the user to play burnt or backed up games on their Wii and a variety of other things such as: Play MP3s, AVI and MP4 files. Watch DVD's on their Wii and even load Emulators onto their Wii to play old games from the SNES, Nes, 64, Sega etc.
These days people generally go with the soft mod Wii as installing mod chips onto the console can void your warranty and can cause issues with "bricking" the Wii, which renders it unusable. Soft modding can really increase the power of your Wii however, the ability to turn your game station into a fully functional entertainment center is really a wonderful thing when it comes to entertaining and having friends over.
If you are thinking of installing a Wii homebrew on your Nintendo please make sure to read the fine print of the vendor. Always use a well established source and if possible read reviews and make sure they are legitimate and won't harm your Wii.