June 23rd, 2020 - Posted by:
Timby
in
Fun Stuff
There's something extra special about games within games. These days, you see the technique being employed all the time in open world epics. For example, in Grand Theft Auto, you can take your chances in the casino, and Witcher brought us the card game Gwent. In the latter case, the game within the game has become just as popular in its own right, and you can download standalone versions to your smartphone.

Super Mario might be perceived as a simple game from a bygone age, but that doesn't prevent it from having its own games within games. Super Mario Slot is an example, and it is one of Luigi's minigames in the Super Mario 64 DS game.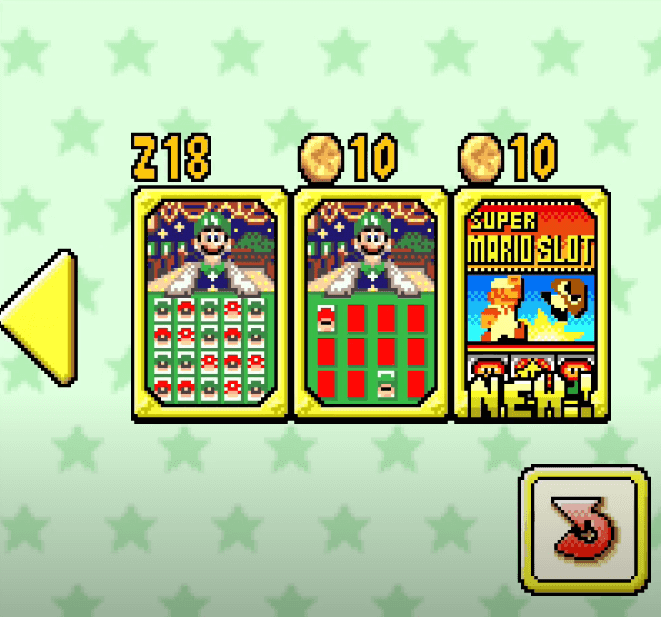 Slot games in general have ballooned in popularity over the past decade or so. It's no surprise to see a game of this type appear within the Super Mario universe, and in actual fact, Super Mario Slot is not the first. This one is based on the very similar Mario Slot. At first glance, the games might look identical, but Super Mario Slot has more of the Superstars symbols which, as we will see, dramatically increases your chances of winning.

Anyone who has ever played a slot game will be familiar with the setup. Super Mario Slot has a traditional "one arm bandit" appearance, with its three reels and brightly colored symbols. Each play of the game takes one coin from your balance and sets the three reels in motion. You then stop each reel by touching it. Three matching symbols means a prize, but the Superstar symbol brings rewards even if only one or two are showing.

Rewards range from 20 coins for three Superstars to two coins for one Superstar. The full prize table is as follows:

3 Superstars: 20 coins
3 Starmen: 15 coins
3 Fire Flowers: 10 coins
3 Super Mushrooms: 10 coins
3 Cape Feathers: 5 coins
3 Yoshi Eggs: 5 coins
2 Superstars: 4 coins
1 Superstar: 2 coins

Extra rewards are available for one Superstar and two other matching symbols.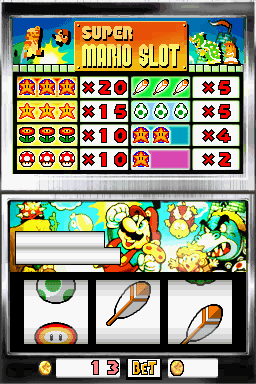 The Super Mario Slot has a retro feel compared with some of the slot games you see on the market today, which might have five or more reels and sometimes thousands of ways to win. However, that is in keeping with the Mario ethos. If you take a look at the hundreds of slot games that are out there on the virtual platforms, you will come across plenty that are of this old-school style.

It begs the question of why nobody has picked up and run with the idea of a Super Mario slot game that you could play in a casino for real money. As arguably the most iconic game franchise ever, Mario has a huge following among the older gamers who grew up in the 80s and 90s but now prefer more adult-oriented games.

Perhaps the answer lies in the fact that while Nintendo does not shy away from slots, real money casino gaming is not something with which it is generally associated. Playtech is one of the biggest game providers in slot game development and was behind the release of a range of Marvel-themed slot games. A similar style of cooperation agreement with Nintendo could be exactly what is needed for a Mario slot to finally see the light of day. After all these years of playing, there's not one of us who wouldn't jump at the opportunity for Luigi to finally make us our fortunes!

One thing that is clear is that retro gaming is all the rage, and as we entered the 2020s, all eyes seemed to be cast back on the 80s and 90s. First, the Sonic the Hedgehog movie propelled Sega's spiky frontman back into the public perception. Now, NetEnt has released the long-awaited Street Fighter II slot, after months of anticipation.

It is unusual for a new slot game to receive so much attention, and the fanfare surrounding NetEnt's new game shows just how much we revere those classic games. Yet Mario is the Granddaddy of them all, and would surely be an even bigger headline grabber. It's a compelling thought, and will surely come about sooner or later. In the meantime, at least we can continue to try our luck on Super Mario Slots.