July 30th, 2020 - Posted by:
Timby
in
Fun Stuff
Some baristas are true artists, you simply can't deny this! However one game loving coffee artist has taken this to the next level by creating some Super Mario Bros art in the froth of a (presumably) cappuccino! You have to check this out, after the jump!
So as promised, here is an awesome fan creation that is using coffee of all things to promote his or her love for all things Nintendo and especially Mario! Who would have thought that a cup of coffee could be the perfect canvas to capture the first level of Super Mario Bros 1.
Although I'm still not entirely certain if that is a Koopa Troopa or a Yoshi…but either way I'll take two please! I'm pretty sure this depicts some form of artist inspired version of level 1-1 of SMB though! It's got blocks, a question mark block a Koopa (?) and of course the main star – Mario! Pretty amazing when you think of the size of a regular coffee cup!
Many thanks to the creator and their hard barista work, I'd definitely have a cup at this place or home!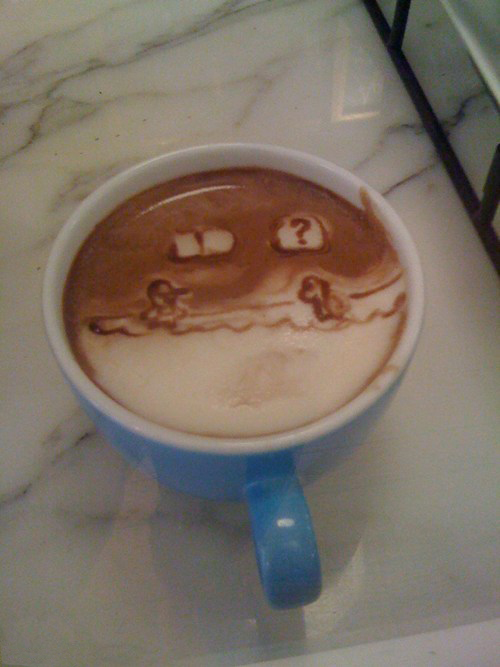 We share crazy images like this all the time on our social media pages, so be sure to follow us on Instagram, Facebook and Twitter to keep up to date on all weird things Mario and Nintendo and Mayhem! Hope to see you there!
*Sips coffee*
Ahh, sweet, sweet Mario-chino!