November 6th, 2013 - Posted by:
Timby
in
News/information
, tags:
bean valley
,
chomp chomp
,
coins
,
legend of the seven stars
,
super mario rpg
Grate Guy's Casino is a hidden part of the map in Super Mario RPG: Legend of the Seven Stars. Accessing this area is a bonus feature added to the game to give gamers something to achieve besides the standard storyline.  The hidden casino is run by the Jester called Grate Guy and players must acquire a Bright Card from the Knife Guy in order to gain entry to the building.
Players must navigate through the Bean Valley in order to find the casino.  It is not easy to find the secret passage; you must find one of the green pipes in the middle of the valley and Mario needs to beat the Chomp Chomp and complete a triple height jump to conjure the invisible platform, opening up the hidden casino.  If you are struggling to find the casino, ask the sleeping toad at Nimbus Land's Inn.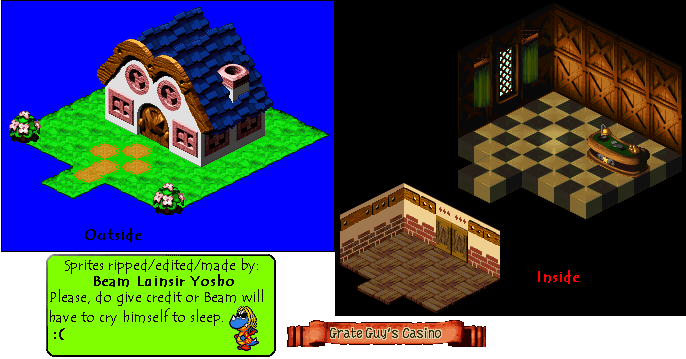 In the casino, there is a slot machine which you can actually play!  To play the game, you must set the number of coins and get a Treasure Box three times by stopping the reels at that symbol every time.  When Mario manages to do that, he will be given a Frog coin.
You can also get involved with Blackjack games at the casino.  When playing against the dealer, you must get as close as possible to 21 without going over.
The final game on offer is called 'Look the Other Way' and when playing this, players are required to select a direction in which to face and they will win if they are facing the opposite direction to the Grate guy's finger.  If you win this challenge 100 times, you will be awarded the prestigious Star Egg.
If Mario betting isn't doing it for you, you should get involved with some real casino games.  This way, you'll be able to actually have the chance of winning some real cash! You can find information about casino news and some of the best casino sites at this site newcasinosonline.co. Check it out today to ensure you find the most suitable online casino for you.