Paper Mario Soundtrack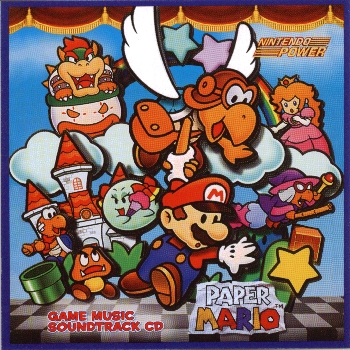 Released way back in August 2000 in Japan as the title "Mario Story" (which it's still known to this date), Paper Mario is the first instalment of the paper series!
Sure, the game was released some 15 years ago nearly, but the tunes are just as fresh if not nostalgic!
This sound track features 78 tracks on 2 discs and has original game music plus some sound effects, to ensure you get your proper dose Mario goodness!
Many thanks to Colin for this submission too! To save the files to your computer just right click and "save target as" or equivalent!
Release Date: September 21, 2000
Composed by: Yuka Tsujiyoko and Koji Kondo
Download the Paper Mario soundtrack, track by track:
000-pm.jpg
000-pmb.jpg
101-story-of-the-stolen-spirits.mp3
102-main-title.mp3
103-a-party-at-peach-s-castle.mp3
104-mario-s-theme.mp3
105-march-ahead.mp3
106-goomba-village-theme.mp3
107-battle-fanfare.mp3
108-hey-you-.mp3
109-gates-of-goomba-castle.mp3
110-goomba-king-s-decree.mp3
111-toad-town-theme.mp3
112-shy-guy-riot.mp3
113-nice-to-meet-you.mp3
114-a-kingdom-in-chaos.mp3
115-fuzzys-stole-my-shell.mp3
116-koopa-village-theme.mp3
117-koopa-bros.-fortress.mp3
118-bill-blaster-go-faster-.mp3
119-koopa-bros.-keep-cool.mp3
120-trojan-bowser.mp3
121-attack-of-the-koopa-bros..mp3
122-toad-town-variations.mp3
123-mt.-rugged-theme.mp3
124-dry-dry-desert-trek.mp3
125-mysterious-dry-dry-outpost.mp3
126-dry-dry-ruins-quest.mp3
127-chomp-attack.mp3
128-forever-forest-theme.mp3
129-approach-to-the-mansion.mp3
130-boo-s-mansion-theme.mp3
131-gusty-gulch-adventure.mp3
132-tubba-blubba-s-castle.mp3
133-the-castle-crumbles.mp3
134-tubba-s-heart.mp3
135-ghost-gulping.mp3
136-shy-guys-toy-box.mp3
137-all-board-.mp3
138-general-guy-s-march (1).mp3
138-general-guy-s-march.mp3
139-keeping-pace.mp3
201-princess-in-distress.mp3
202-hang-in-there-peach-.mp3
203-twink-s-theme.mp3
204-jade-jungle-theme.mp3
205-welcome-to-yoshi-s-village.mp3
206-search-for-the-fearsome-5.mp3
207-raphael-the-raven.mp3
208-hot-times-in-mt.-lavalava.mp3
209-escape-from-mt.-lavalava.mp3
210-lava-piranha-attack.mp3
211-go-mario-go-.mp3
212-clouds-over-flower-fields.mp3
213-flower-fields-rondo.mp3
214-lakilester-the-great-.mp3
215-huff-n.-puff-s-theme.mp3
216-huffin-and-puffin-.mp3
217-cold-reception-in-shiver-city.mp3
218-detective-mario.mp3
219-snow-road.mp3
220-starboarn-valley-trail.mp3
221-over-shiver-mountain.mp3
222-crystal-palace-crawl.mp3
223-freeze-.mp3
224-a-city-in-the-stars.mp3
225-shooting-star-summit.mp3
226-star-way.mp3
227-sanctuary-.mp3
228-siege-on-bowser-s-castle.mp3
229-angry-bowser.mp3
230-bowser-s-rage.mp3
231-wish-of-the-princess.mp3
232-king-of-the-koopas.mp3
233-beware-bowser-s-castle-.mp3
234-star-spirits-request.mp3
235-goodbye-twink-.mp3
236-princess-peach-saved-.mp3
237-victory-parade.mp3
238-the-celebration-continues.mp3
239-mario-and-peach-s-theme.mp3