Paper Mario 2 the thousand year door Soundtrack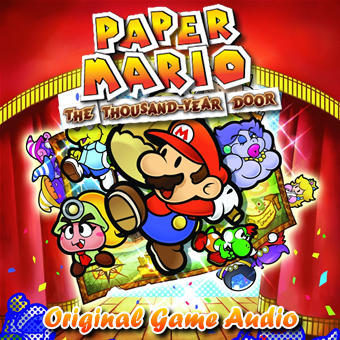 It took us a while but we finally uploaded the Paper Mario thousand year door soundtrack for you to enjoy!
As you can see from this massive file listing below this collection was actually compiled on 4 discs and has a total run time of 3:48:17! That is a lot of Paper Mario to digest!
Paper Mario: The Thousand Year Door ~ Original Sound Version
Produced by: Yoshito Hirano, Yuka Tsujiyoko, & Koji Kondo
Download the Paper Mario: The Thousand Year Door soundtrack:
001_pm2_story_intro.mp3
002_pm2_peach_gets_the_map.mp3
003_pm2_title_screen.mp3
004_pm2_file_load.mp3
005_pm2_small_intro.mp3
006_pm2_mario_bros.'_house.mp3
007_pm2_paper_mario_title.mp3
008_pm2_sailing_to_rogueport.mp3
009_pm2_chapter_intro.mp3
010_pm2_rogueport.mp3
011_pm2_enemy_encounter.mp3
012_pm2_event_battle.mp3
013_pm2_battle_win.mp3
014_pm2_character_join.mp3
015_pm2_partner_abilities.mp3
016_pm2_professor_frankly.mp3
017_pm2_training.mp3
018_pm2_underground.mp3
019_pm2_battle.mp3
020_pm2_stylish.mp3
021_pm2_curse_of_the_black_box.mp3
022_pm2_thousand_year_door.mp3
023_pm2_petal_meadows.mp3
024_pm2_dragon_flyover.mp3
025_pm2_petalburg.mp3
026_pm2_email_chime.mp3
027_pm2_level_up.mp3
028_pm2_65th_super_fun_quirk_quiz.mp3
029_pm2_answer_that_question!.mp3
030_pm2_underground_fuzzy_lair.mp3
031_pm2_sleepy_time.mp3
032_pm2_hooktail_castle_intro.mp3
033_pm2_hooktail_castle.mp3
034_pm2_paper_stairs.mp3
035_pm2_the_ceiling_is_falling!.mp3
036_pm2_the_thievery_of_ms._mowz.mp3
037_pm2_meet_hooktail.mp3
038_pm2_boss_battle.mp3
039_pm2_koops'_reunion_with_dad,_koopley.mp3
040_pm2_acquiring_a_crystal_star.mp3
041_pm2_end_of_chapter.mp3
042_pm2_grodus'_room.mp3
043_pm2_peach_kidnapped_._._._again.mp3
044_pm2_peach_sings_._._._in_the_shower.mp3
045_pm2_bowser_king_of_koopas.mp3
046_pm2_email_from_peach.mp3
047_pm2_crystal_star_sequence.mp3
048_pm2_powering_up.mp3
049_pm2_luigi's_tiring_story.mp3
050_pm2_it's_punio!.mp3
051_pm2_boggly_woods.mp3
052_pm2_the_shadow_sirens_3.mp3
053_pm2_the_great_tree.mp3
054_pm2_shadow_sirens_battle.mp3
055_pm2_madame_flurrie_xx.mp3
056_pm2_x-nauts_encounter.mp3
057_pm2_jabbies_attack!.mp3
058_pm2_lord_crump's_trap.mp3
059_pm2_magnus_von_grapple.mp3
060_pm2_magnus_von_grapple_battle.mp3
061_pm2_tec's_waltz.mp3
062_pm2_bowser's_quest.mp3
063_pm2_bowser_level_1-1_smb.mp3
064_pm2_bowser_invincible_smb.mp3
065_pm2_bowser_defeated_smb_style.mp3
066_pm2_bowser_gets_the_flag.mp3
067_pm2_pianta_parlor.mp3
068_pm2_paper_game.mp3
069_pm2_call_me_ishnail.mp3
070_pm2_cheep_blimp_to_glitzville.mp3
071_pm2_glitzville.mp3
072_pm2_the_glitz_pit.mp3
073_pm2_grubba's_office.mp3
074_pm2_glitz_pit_battle_intro.mp3
075_pm2_glitz_pit_battle_outtro.mp3
076_pm2_egg_escape.mp3
077_pm2_email_from_x.mp3
078_pm2_mysteries_of_the_glitz_pit.mp3
079_pm2_rawk_hawk_rock.mp3
080_pm2_ousted_champion.mp3
081_pm2_grubba's_secrets.mp3
082_pm2_macho_grubba!.mp3
083_pm2_ms._jolene's_appreciation.mp3
084_pm2_twilight_town.mp3
085_pm2_twilight_trail.mp3
086_pm2_creepy_steeple.mp3
087_pm2_doopliss'_'me'_time.mp3
088_pm2_doopliss_battle.mp3
089_pm2_doopliss_mario_appears.mp3
090_pm2_ha!_guessed_your_name!.mp3
091_pm2_bowser_water_level_2-1_smb.mp3
092_pm2_zess_t.'s_cooking.mp3
093_pm2_the_s.s._flavion_shoves_off.mp3
094_pm2_aargh!_pirate_ghosts!.mp3
095_pm2_keelhaul_key.mp3
096_pm2_pirate's_grotto.mp3
097_pm2_cortez.mp3
098_pm2_cortez_and_ship_battle.mp3
099_pm2_dread_pirate_crump.mp3
100_pm2_load_up_the_disk.mp3
101_pm2_sea_trip_with_cortez.mp3
102_pm2_the_excess_express.mp3
103_pm2_riding_the_excess_express.mp3
104_pm2_pennington's_mystery.mp3
105_pm2_dusk_on_the_train.mp3
106_pm2_night_train.mp3
107_pm2_train_announcement.mp3
108_pm2_train_announcement.mp3
109_pm2_smorg_battle.mp3
110_pm2_poshley_heights.mp3
111_pm2_inner_sanctum_of_the_star_sanctum.mp3
112_pm2_theme_of_grodus.mp3
113_pm2_castle_bowser_smb.mp3
114_pm2_fahr_outpost.mp3
115_pm2_bomb_cannon_online.mp3
116_pm2_general_white_firing_the_bomb_cannon.mp3
117_pm2_journey_to_the_moon.mp3
118_pm2_x-naut_fortress.mp3
119_pm2_classic_smb_in_the_x-naut_fortress.mp3
120_pm2_magnus_von_explosion.mp3
121_pm2_opening_of_the_thousand_year_door.mp3
122_pm2_palace_of_shadow.mp3
123_pm2_riddle_tower.mp3
124_pm2_chest_appear.mp3
125_pm2_down_into_the_shadows.mp3
126_pm2_the_final_hall.mp3
127_pm2_grodus_battle.mp3
128_pm2_bowser_battle.mp3
129_pm2_shadow_queen_arises.mp3
130_pm2_shadow_envelopes_the_land.mp3
131_pm2_shadow_peach.mp3
132_pm2_shadow_peach_battle.mp3
133_pm2_shadow_queen_battle.mp3
134_pm2_the_crystal_stars.mp3
135_pm2_peach's_gift.mp3
136_pm2_final_battle.mp3
137_pm2_shadow_queen_defeated.mp3
138_pm2_saving_peach.mp3
139_pm2_leaving_rogueport.mp3
140_pm2_trip_home.mp3
141_pm2_shining_rogueport.mp3
142_pm2_here_we_go_again!.mp3
143_pm2_staff_credits.mp3
144_pm2_game_over.mp3
145_pm2_item_get.mp3
146_pm2_badge_get.mp3
147_pm2_star_piece_find.mp3
148_pm2_shine_sprite.mp3
149_pm2_event_item_get.mp3
150_pm2_small_event.mp3
151_pm2_new_shoes_or_hammer.mp3
152_pm2_name_sound.mp3
153_pm2_name_sound_2.mp3
154_pm2_oh_no!!.mp3
155_pm2_battle_win_with_partner_injured.mp3
156_pm2_merlee's_spell.mp3
157_pm2_merluvlee's_spell.mp3
158_pm2_pit_of_100_trials.mp3
Back to Mario Sound Tracks