Mario Galaxy Platinum Version
Super Mario Galaxy Platinum Version is the Soundtrack by Mahito Yokota and Koji Kondo, performed by the Mario Galaxy Orchestra. Released January 24th 2008 in Japan, the platinum version of the album runs for 129:54 minutes whilst the original version ran for 67:05.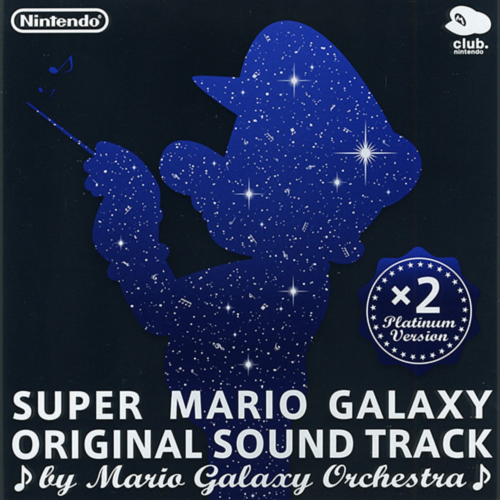 During development, Mahito Yokota, who was in charge of the composition of music, originally wanted Super Mario Galaxy to have a Latin style of music and even had 28 tracks completed for the game. The reason for this was that Latin percussion instruments had been used in previous Mario games, such as steelpans, bongo drums, and congas. For Super Mario Galaxy's theme, Yokota used Latin instruments and a synthesizer to create sci-fi sounds. The song was approved by Yoshiaki Koizumi, the game's designer, but when he presented it to Koji Kondo, he told him that his song was no good. According to Yokota, he always had an image that Mario was for kids, causing him to create cute music that would appeal to children. Three months later, Yokota presented three different styles of music to Shigeru Miyamoto. One piece had an orchestral sound, one was a mix of orchestral music and pop music, and the last was pop music. Miyamoto chose the orchestral piece, which was written by Koji Kondo. From then on, the game's soundtrack would be composed for a symphony.
Kondo often would ask the orchestra to play at strange tempos in order to perfectly synch with the rest of Mario's movement and also stated that even the sound effects fit into the musical score if you listen carefully. Some levels in Super Mario Galaxy have new scores as well as incorporating older ones such as songs from Super Mario Bros., Super Mario Bros. 3, Super Mario Land, Super Mario World, and Super Mario 64. Other older snippets of classic Mario themes were blended in by use of magic music notes. Some of the music, such as the Bowser boss fight music, is more interactive than music from other games in the Mario franchise. A normal MIDI style is used during the fight, but when Bowser becomes vulnerable, a chorus style of the song is used.
The official soundtrack was released on January 24, 2008. It was an exclusive to Club Nintendo subscribers in Japan. The soundtrack was released in two versions: the Original Soundtrack, which only contains 28 songs from the game, and the Platinum Edition, which contains all 81 songs from the game on two discs. The soundtrack has won numerous critic awards, such as "Best Design in Audio" from Edge Magazine.
Download Mario Galaxy Soundtrack:
CD1:
000-va-super_mario_galaxy_platinum_version-(ost)-2008-2cd.m3u
000-va-super_mario_galaxy_platinum_version-(ost)-2008-2cd.nfo
000-va-super_mario_galaxy_platinum_version-(ost)-2008-2cd.sfv
CD 2: