December 4th, 2014 - Posted by:
Timby
in
Mario Lists
, tags:
bonus game
,
boo diddley
,
frog suit
,
smb3
,
tanooki
As of 2011, Super Mario Bros. 3 remained the highest-grossing non-bundled home video game to that date, having grossed a massive $1.7 billion dollars in sales! So with these crazy stats in mind it's time to Grab your warp whistles, Goomba boots and Racoon leafs as we jump into one of the most popular video games of all time!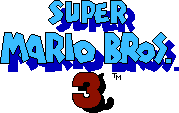 Video at the bottom!

No Comments »