February 25th, 2020 - Posted by:
Timby
in
Videos
, tags:
guitar
,
Super Mario Guitar
,
super mario world
When one thinks of making things with ice creme sticks you usually think of a rickety little house or maybe a poorly constructed stick figure by a 6 year old. Well, the YouTube channel Cranmer Guitars took this idea and went completely overboard and build a freaking Super Mario World inspired Guitar! You won't believe the work and effort that was put into this masterpiece. It also makes you wonder, how much would you pay for a Super Mario Guitar? I don't want to think about it!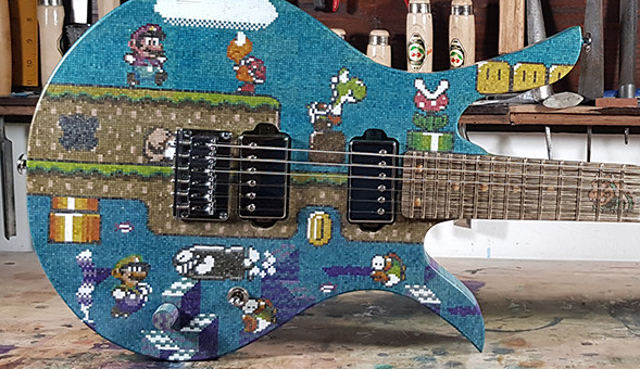 This used over 10,000 lollipop sticks as they describe however I think here in Australia we call them ice cream sticks or at the very least Popsicle sticks. Whatever you want to call them the outcome is magnificent! With hours upon hours of patient work, this designer cut down the sticks into little pixels, dyed them, put them together with glue and then fashioned a guitar out of them! Pretty incredible stuff!
To top the whole thing off it is designed based off Super Mario World, which makes it even more amazing in my book. The fret board even has an inlay-ed Bowser and the head stock features princess Toadstool! The neck itself is multi-coloured which is just fantastic.
If you want to see the build in action then be sure to check out the video below where I give my reaction to the whole thing. Enjoy!