July 15th, 2014 - Posted by:
Timby
in
Images
,
News/information
, tags:
Donkey Kong
,
donkey kong jinga
,
mario game sponge
,
mario merchandise
,
mario shampoo
,
mario shoes
,
Mario soda
,
nintendo DS
,
toad
Our friends over at slappedham.com have sent us over this fantastic Mario article for your amusement! What a bunch of legends! Check out these awesome and awesomely rare Mario Merchandise pieces and then don't forget to check out their site and youtube too!
Soft-drink with all your favourite characters
In the early 90s Nintendo released a range of sodas sporting various Mario characters. Luigi was berry flavoured. Princess Toadstool before she was known as peach tasted like cherries apparently. Yoshi being green was cleverly flavoured apple. And Mario was punch flavoured, I guess 'cos he has anger issues?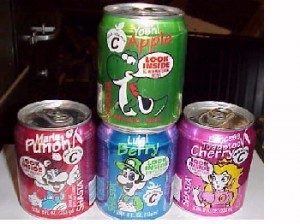 DS Birthday Cake
Is your kid screaming 'I want a Mario birthday cake!' but you can't be bothered making one? Well Nintendo delivered with this interesting Nindendo DS shaped jam and sponge cake featuring Mario and Luigi artwork. The bulk of the 'console' is edible while the screen is a piece of cardboard for writing special wishes for loved ones. This piece of merch was launched to coincide with the release of New Super Mario Bros.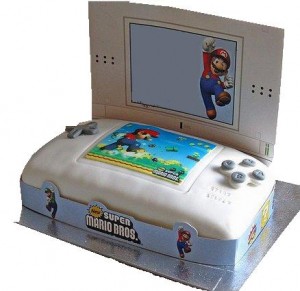 Cookie Jar Toad
A bit of a half-hearted attempt here by Nintendo. It's a cookie jar that sort of looks like Toad. When the lid is opened and you reach for a sweet sweet cookie a Mario inspired tune is said to play.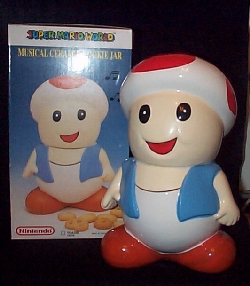 A range of Mario bathroom merchandise
So you've just finished a frantic game of Lost Levels and you've worked up a sweat (it happens). It's time to hit the shower, well Nintendo's got you covered. From a Gameboy Mario sponge to various shampoos, there's even a warp-pipe shower head with built-in scald protection. Thanks Nintendo, now I smell plumber fresh.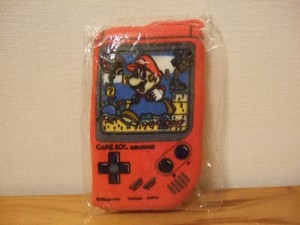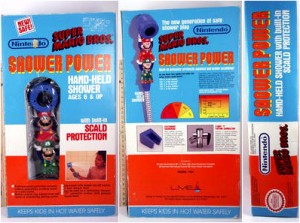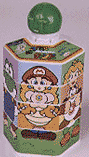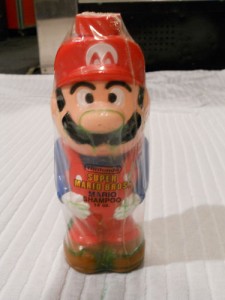 Mario Footwear
If only I could jump as high as Mario, I'd get all the princesses. Well fear not, 'cos once again Nintendo have you covered. Check out this awesome selection of sneakers:
Donkey Kong Jenga
On the list of rare Mario merchandise this has to be one of the cooler items – it's Donkey Kong Jenga. Released back in 2008, this piece of memorabilia gold can be played in two ways: the first , standard Jenga rules apply; the second introduces some classic Donkey Kong mayhem into the mix. The players must spin a special wheel that determines how many pieces must be removed each turn. The wheel also dictates how many levels the Mario game pieces can climb. The player whose Mario game piece reaches Pauline first before the tower collapses wins the game. I want one – I want one now!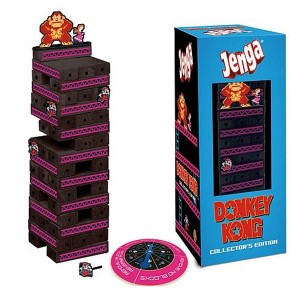 Well that's it for rare Mario merchandise. If you liked this list then head on over to Slapped Ham we've got a ton of strange trivia lists to raise your eyebrows and make you go 'Oh wow!'.
The fun continues through all our social media stuff:
Give us a like at: https://www.facebook.com/SlappedHam
Twittle our diddles at: https://twitter.com/SlappedHam
OR subscribe to our Youtube channel for full-motion antics: https://www.youtube.com/SlappedHamTV
Thanks everyone!
This is the Slapped Ham signing off.