September 10th, 2013 - Posted by:
Timby
in
News/information
, tags:
bingo
,
mario card
,
mario craft
,
mario hobby
We all love a themed party and bingo is a great way for everyone to have some fun and frolics!  You don't need to visit bingo sites all the time to enjoy this great game you can make your own bingo cards all by yourself which is great fun.
One of the most common themes for people who are a fan of classic or retro computer games or people of the younger generation is a Super Mario Party!  Of course you can get a cake and card no problem in most stores – but how about making your own Super Mario bingo cards?  It's really easy and will be a great addition to a party.  Here's how you can make it: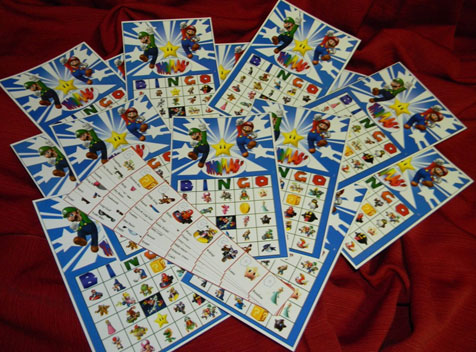 Find some card stock paper and draw a large square and split it into 5 rows and 5 columns.  After that you can enter a Super Mario term (or character) in each section you have drawn.  You then continue with this on as many cards you need for the game which is the amount of people playing.  The ordering should be switched about on each card to make sure there will only be one winner!
Computer geniuses (you may be if you are a Super Mario fan) – can make a bingo card simply by using computer software.  All you need is a simple application such as Microsoft Word and if you create a table with 5 rows and 5 columns and enter a Mario term in each square, that's you good to go after you print them off!  Make sure you do this enough times so there are enough cards though – you wouldn't want to leave anyone out.
Finally you could use a bingo card generator.  You won't have to look too far to find these – they are all over the internet just like those new bingo sites.  All you have to do is enter the Super Mario information you need to and the tool will generate the card automatically randomize everything.  The great thing about these is you can change it as many times as you would like if you aren't happy with it.  If you want to learn more about hosting a fab Super Mario party you can visit this page!