Super Mario World Game Genie Codes
Stuck in Super Mario world? Just want to have a bit of fun? Go and find yourself an old Game Genie that you can add to your SNES and then apply some of our codes! That's right folks, here we have a collection of Super Mario World Game Genie Codes that you can use to manipulate the classic game. From starting with Extra lives to having unlimited jumping ability (even when you are halfway down a pit) the game genie can add some really fun features to this awesome game. Super Mario World is actually one of my favourite games and with the game genie it adds a whole new dimension of awesomeness!

Anyway, onwards with the game genie codes for SMW. There are lots and lots of codes so don't think of this as a complete list: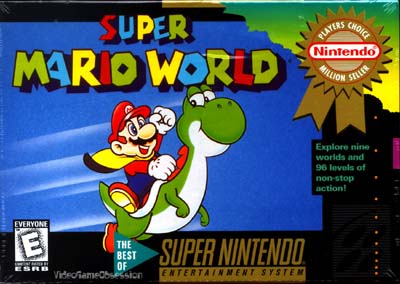 3E2C-AF6F - Unlimited jumps – jump any time, even if you are falling
14B4-6F07 - Start with 99 lives
CBB7-6D67 – Start the game as Fire Mario
CBB7-6D67 - Start the game as Caped Mario
DD32-6DAD - Start the game and stay invincible most of the time
CBED-6DDF - Keep your ability (Super Mario, Fire Mario, or Cape Mario) even when hit
DF2C-AF6F - Mega-jump
C264-64D7 - Unlimited time – some levels/puzzles need a timer so you will have to disable this code to get past it.
EE2C-AF6F - Flying Mario – you can use Yoshi with this too!
DFCE-64A0 – a Little Yoshi grows big after eating just 1 enemy
562C-AF6F - Play during demo – You can't jump using this code. Firstly watch the demo, when Mario dies it will say "game over" but then start playing through again, now you control the demo player!

Back to Mario Bros Game Genie Codes