March 23rd, 2017 - Posted by:
Timby
in
News/information
When Japanese game designer Shigeru Miyamoto sat down to create a determined little sprite dubbed Mario for arcade game Donkey Kong in 1981, it's hard to imagine he may have had an inkling of how enormous and definitive the Mario franchise would become.
Today the stocky little plumber with the curling mustachios is world-renowned as the company mascot of Nintendo. He has shifted more than 125 million units during his thirty-year reign as the star of over 200 games of various genres across multiple platforms.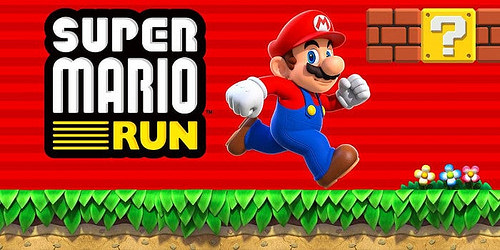 "Juego Super Mario Run para iPhone y iPad" (CC BY-SA 2.0) by iphonedigital
Most recently, Mario jumped to the mobile market, with 2016's smash hit Super Mario Run. He'll always be best known as the energetic hero of the addictive side-scrolling platformers that make up the Super Mario series, which were staple games on the NES and later consoles, but there are a few game genres yet to feature characters from the Mushroom Kingdom, and online slots is one area Mario & co have yet to explore.
Which is on the face of it rather peculiar, for it is difficult to think of a game format that fits the colourful world of Mario better. Today's online slot games feature a cheerful and animated colour palette, favoring cartoonish visuals and lively sound effects.  Increasingly, these slick high-definition game worlds are being brought to life by the application of smooth parallax scrolling effects to enhance player immersion – much like Mario games.
A browse through some of the online slots from 32Red UK shows just how far the iGaming industry has come since it first made the transition from casino and scratchcard play to a full browser experience and smartphone games. For instance, the online slot Jurassic Park is a 32Red game that sports a shifting background of well-rendered jungle foliage, against which the reels spin, as if a movie camera was executing a slow tracking shot. The effect is to create a sensation of movement through a game environment where none actually exists, and serves to reward play with a dynamic sense of progress. On a similar note, Thunderstruck II from mobile casino site Karamba features a parallax scrolling effect at the top of the screen, to depict storm clouds chasing each other across the boiling sky at the commencement of every spin. This tendency toward parallax scrolling to enhance gameplay is being embraced by new slots all the time, as game creators seek to ramp up the gameplay to the handheld arcade standards of mobile game apps, where it makes sense to stand out in a crowded marketplace by being bright and busy-looking.
Bright and busy-looking are most definitely the winning components of many a successful Mario game, where the game world revels in presenting spectacle after spectacle, a range of scrolling environments from volcanic landscapes through to perilous ice caves and ethereal cloud castles. Throw in the sporadic cascade of bouncing gold coins and a host of memorable characters and you have the perfect crossover to slot gaming should any intrepid games designer suggest such a step.